Health and Safety

---
Nevada Governor Sisolak lifted the mask mandate in the state of Nevada effective immediately for both vaccinated and unvaccinated individuals. Mandalay Bay and Delano have updated its mask policy. Effective immediately, guests and employees are no longer required to wear masks indoors or outdoors.
In line with recommendations from public health authorities and to facilitate a safe environment, we will be requiring all attendees and staff to show proof of a US FDA or WHO recognized vaccine against COVID-19 or a negative COVID-19 test prior to the event. Click here for more information.
MGM Resorts are committed to the health and safety of its staff and guests. In addition to partnering with world-class experts in epidemiology, public health and occupational health and safety, we have made it a priority to identify technologies and capabilities designed to make the guest experience healthy, safe, and stress-free.
Integrating health and safety into nearly every element of a convention, meeting, or entertainment experience was an important step we were proud to lead the way with. Since then, we have developed numerous best practices and incorporated lessons learned into our everyday operations. From contactless check-in and virtual site inspections to facility adjustments and digital implementation of the CLEAR Health Pass, MGM Resorts is prepared to provide options to keep attendees safe, while giving event planners and organizers the flexibility and creativity to which they are accustomed.
Health and Safety Protocols for Meetings and Events
1. PLANNING: Virtual site inspections and pre-planning services available. This includes careful planning of event, meal and break times to safely optimize guest movement throughout the meeting space.
2. MGM HEALTH PASS: MGM Resorts is bringing together cutting-edge Health Pass technology from CLEAR, innovative COVID-19 testing, and expert health providers from Impact Health with the goal of creating safer environments and ecosystems across MGM venues.
3. ARRIVAL: We always recommend advance registration but when not possible, where registration desk queuing is needed, required scheduling and distancing will be clearly indicated.
4. CLEANING AND DISINFECTING: High touch points will be cleaned and disinfected regularly; single-use amenities will be disposed of daily. Hand sanitizer will be available in high traffic areas.
5. PHYSICAL DISTANCING: Our facility capacities have been adjusted to meet physical distancing requirements and will evolve as needed. Signage will be placed to remind guests of physical distancing standards, floor clings to mark entrances and exits. Transparent barriers will be used where physical distancing is challenging.
6. DINING EXPERIENCE AND BREAK REFRESH: Varied styles of meal service will be offered. Servers and chef attendants will serve guests.
Non-U.S. Based Attendees
Non-U.S. based attendees, as well as U.S. based attendees unable to use CLEAR, will need to provide their proof of vaccination at the D.I.C.E. Summit registration counter.
How to Provide Proof of COVID-19 Vaccination On-Site
Non-U.S. based attendees, and those not using the CLEAR app, must present either a digital or hard copy of their vaccine record. Photocopies will be accepted. Digital vaccination certificates and mobile applications that many countries have issued will also be accepted. Vaccine records must clearly state the following:
Full name
Type of vaccine administered
Date of when the vaccine was received
Location where vaccine was administered

Important: buying, selling or using a fraudulent vaccination card is a state and federal crime.
In addition to providing a copy of their vaccine record, attendees will need to provide a government-issued photo ID that matches the name on their vaccine record, and their D.I.C.E. Summit registration confirmation to pick up their D.I.C.E. Summit 2022 badge.
In-Room Covid-19 Testing
MGM Resorts is partnering with Community Ambulance to deliver In-Room COVID-19 Testing for registered hotel guests staying at MGM Resorts destinations in Las Vegas. Community Ambulance offers different COVID-19 testing options arranged at guests' convenience to best suit their needs.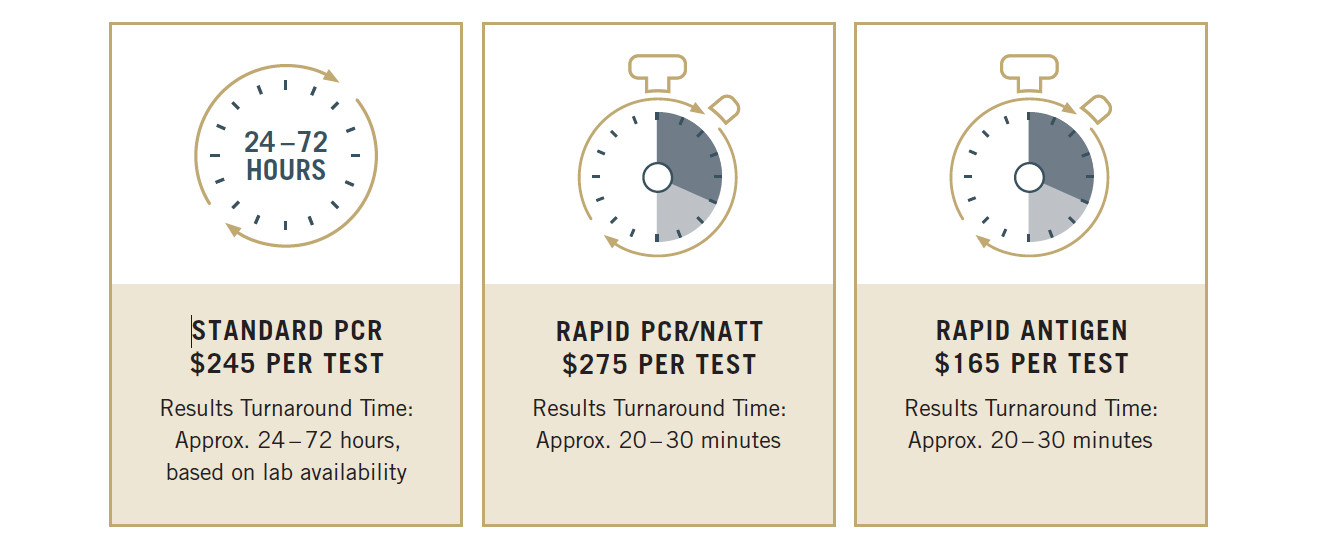 All payments will be processed at the time of sample collection.Community Ambulance does not accept health insurance as a form of payment. $100 cancellation fee may apply.
Samples will be collected in your guest room by a medical professional, and test results will be delivered electronically.
Services are available daily between 8:00 a.m. to 8:00 p.m. Additional charges may apply for same-day/after-hour requests. Community Ambulance will provide more information about applicable charges and fees.
FOR MORE INFORMATION AND FOR ASSISTANCE WITH SCHEDULING AN APPOINTMENT, PLEASE CALL GUEST SERVICES AND FOLLOW THE PROMPT FOR YOUR HOST RESORT:1.877.751.7117
COVID-19 Testing in Las Vegas
The Las Vegas Convention and Visitors Authority (LVCVA) has partnered with University Medical Center (UMC) to provide a convenient COVID-19 testing center for visitors requiring testing for travel and convention attendees on the Las Vegas Strip, just steps from the Las Vegas Convention Center (LVCC).
The testing center is located at Las Vegas Boulevard and Elvis Presley Boulevard at the site that was formerly the Riviera Hotel. Due to its centralized location, the center will also allow tradeshow operators to offer onsite testing for exhibitors and attendees.
PCR testing is available by appointment Monday through Friday, from 8 AM to 4 PM. The site also accepts a limited number of walk-ins, based on availability. The hours of operation may be expanded as needed to accommodate the LVCC tradeshow schedule. The price is $130.00 per PCR test and results are expected within 24 hours. This price includes customized travel documentation for international and domestic travelers. The center will be open through June.
We are pleased to partner with UMC for this effort. UMC continues to serve as Nevada's leader in COVID-19 testing, with more than 1.2 million tests performed. The LVCC partnered with UMC in 2020 to serve as a COVID-19 testing site for local workers. The facility also served as a mass vaccination site, with more than 200,000 doses of the vaccine administered throughout the year.
Appointments can be scheduled online at www.umcsn.com/convention. You can also visit www.vegasmeansbusiness.com/meet-smart for the most current information on health and safety precautions throughout the destination. Thank you for your continued partnership.
Cancellation Policy
Cancellations are accepted until January 10, 2022. Refunds will not be given after January 11, 2022 unless the event is canceled due to state or federal mandates or if travel restrictions are implemented by the state or federal government that would prevent someone from attending. This includes D.I.C.E. Summit Pass, Party Pass, and optional networking events including the Golf Tournament, Go-karting Tournament, & Poker Tournament. There will be a $200.00 processing fee for every D.I.C.E. Summit and D.I.C.E. Awards cancellation.