16th D.I.C.E. Awards and 2013 Summit Videos Now Available

Were you unable to watch the 16th Annual D.I.C.E. Awards LIVE last Thursday? Hankering to catch the Awards intro that everyone can't stop talking about? Don't worry, the entire awards show, hosted by Chris Hardwick, along with red carpet interviews is available here.
Dying to check out Jenova Chen's emotional discourse on the making of Journey? Itching to watch Warren Spector discuss his thoughts on the graying of gaming? Catch all of the FULL D.I.C.E. Summit sessions here.
If you don't have the time to check out the full sessions, but want to get the highlights, make your way to ENTV's Youtube page to get a brief preview of each of the sessions.
---
Into the Pixel Auction

Our annual Into the Pixel auction is underway! The auction is meant to help fund the AIAS Foundation and Into the Pixel's global tour to share video game art to fans worldwide. Among this year's art work we have scenes from Journey, Mass Effect 3, Halo 4, Dishonored, Assassin's Creed III, Diablo III, Guild Wars 2, among others. Don't miss out, this auction ends this Wednesday at 3 PM PT!
You can bid on the collection here.
---

J.J. ABRAMS AND GABE NEWELL TO GIVE
WEDNESDAY OPENING KEYNOTE AT 2013 D.I.C.E. SUMMIT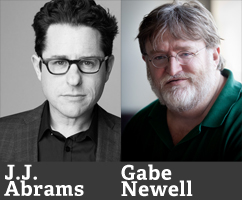 Veteran writer, director and producer J.J. Abrams (Star Trek, Person of Interest, Revolution) and president and co-founder of Valve Corporation Gabe Newell will present the opening keynote discussion at the 2013 D.I.C.E. (Design, Innovate, Communicate, Entertain) Summit (#DICE2013) on Feb. 6, 2013. The annual Summit, which is produced by the Academy of Interactive Arts and Sciences, brings together the best and brightest minds from the interactive entertainment industry at the Hard Rock Hotel and Casino in Las Vegas.
Abrams is the founder and president of Bad Robot Productions. Formed in 2001, Bad Robot has produced films and television series such as Cloverfield, Mission Impossible: Ghost Protocol, ABC's Lost, Fox's Fringe, and CBS's Person of Interest. In 1998, Abrams co-created his first television series, Felicity; he then created and executive produced Alias in 2001, and co-created and executive produced Lost in 2004. In 2006, Abrams directed his first feature film, Mission: Impossible 3, followed by 2009's Star Trek and 2011's Super 8, which he also wrote. His most recent feature, Star Trek Into Darkness, will bow this May.
In 2005, Abrams received Emmy Awards for Outstanding Directing in a Drama Series and Outstanding Drama Series, both for Lost. He also received Emmy nominations for writing the Alias and Lost pilots. In addition, Abrams composed the theme music for Alias, Fringe, Lost, Person of Interest, and Revolution, and he co-wrote the theme song for Felicity. Abrams serves as Executive Producer of CBS's Person of Interest, Fox's Fringe, and NBC's Revolution.
One of Abrams' latest ventures is Bad Robot Interactive, which co-created Super 8 and created Action Movie FX -- two award-winning apps. Apple recently named Action Movie FX as the iPhone App of the Year.
Newell was previously announced as the Thursday Conference Keynote and will be speaking on, "A View on Next Steps." Additionally, Newell will be honored at the upcoming 16th Annual D.I.C.E. Awards on the evening of February 7th as the 2013 AIAS Hall of Fame inductee.
Click here for the official press release.
Click here for more information on J.J. Abrams, Gabe Newell, and the rest of our speakers.
---