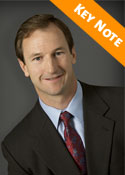 Stephen Wadsworth
President
Disney Interactive Media Group
Under Stephen Wadworth's leadership, Disney Interactive Media Group is responsible for the global creation and delivery of Disney branded entertainment and lifestyle content across all interactive media platforms including mobile devices, PCs, and video game consoles. DIMG also provides interactive technology strategy, solutions and execution for Disney and its ABC and ESPN units.

Before joining The Walt Disney Company in 1993, Wadsworth was a principal for the Windsor Park Group in Los Angeles, providing strategic, operational and financial management consulting services to companies primarily in retail and consumer products industries. Starting at Disney Consumer Products, he served as director of business planning, and then moved on to Disney Online and served as senior vice president and chief financial officer, responsible for all strategic planning, business development, technology operations, finance, accounting, and administrative functions.

Wadsworth has played a critical role in leading the company's successful drive to profitability and growth as he led a restructuring of the business and current expansion into broadband and wireless.

Wadsworth holds a B.S. in engineering from the University of Virginia and received his M.B.A. from the UCLA Graduate School of Management.