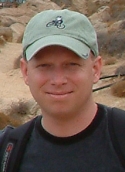 Carey Chico
Executive Art Director
Pandemic Studios
Carey Chico has been in the game Industry for over 13 years and is currently Executive Art Director at Pandemic Studios, now part of Electronic Arts. He got his start in 1996 as a Lead Animator on Planetfall at Activision. From there, he rose through the ranks to arrive in his current role.

He has worked as the Executive Art Director at Pandemic for five years and is focused on overall production management across the 6 teams at his studio. Titles to his credit include Battlezone 1 & 2, and Star Wars: The Clones Wars. Titles under his supervision include: Star Wars: Battlefront 2, Full Spectrum Warrior 1 & 2, Mercenaries 1 & 2 and Destroy All Humans 1 & 2.

Additionally, Carey remains active as a music composer for games, theater and film. With over 9 titles to his credit, some of his projects include the games: X-men: Mutant Academy, Civilization: Call to Power, and Battlezone 2, the recent horror film Boo and two recent theater projects: The Seventh Monarch and Twelve Angry Men.