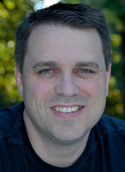 Chris Taylor
CEO & Creative Director
Gas Powered Games
For the past 20 years, Chris Taylor has been one of the game industry's most imaginative and dynamic visionaries. The creator of the first true next-generation RTS game, Total Annihilation, Taylor enjoys an industry-wide reputation as an innovator who is able to push both technology and gameplay to their limits.

Taylor founded Gas Powered Games in 1998, where he currently serves as the CEO and Creative Director. To date, GPG has released Dungeon Siege, Dungeon Siege II, Dungeon Siege II: Broken World and oversaw the development of Dungeon Siege: Throne of Agony for the PSP. In 2007, the company released its critically acclaimed RTS game, Supreme Commander and its expansion, Forged Alliance.

In 2009, GPG will launch the innovative action/RTS game Demigod. GPG also has a number of unannounced projects in development.