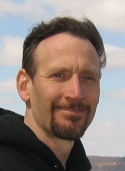 Brian Raffel
Co-founder & Studio Head
Raven Software
In 18 years, Brian Raffel has grown Raven Software from an Amiga computer game developer with four employees, into an Activision-owned studio with over 180 programmers, artists and level designers.

With his guidance, Raven has produced a series of hit titles, including Marvel: Ultimate Alliance, the Soldier of Fortune series and Jedi Knight II. Currently in production, Raven is working on the movie-based X-Men Origins: Wolverine, the next installment of the Wolfenstein franchise and an original IP called Singularity.

Based in Madison, Wisconsin, Raven Software boasts a state-of-the-art motion
capture facility, 3D-Sscanning department, Foley sound recording facilities, and a Hollywood-quality cinematics department.

An avid video game enthusiast as well as a graduate with a BS in art education from UW-Madison, Raffel helps set the tone for Raven's immergence as a leading-edge development studio in the ever changing world of electronic gaming.