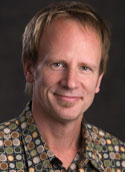 Henry LaBounta
Director of Art
Electronic Arts
As Director of Art for EA Games, Academy Award nominee Henry LaBounta oversees the visual look of EA's games. Working with selected teams to set the look and style of the games he partners with the designers, art directors, technicians and producers from visual development through production. LaBounta is currently working with the 'Need for Speed', 'Godfather' and 'Skate' teams. He recently completed work on EA's new highly rated game "Skate" while he consulted on "Burnout Paradise" and "Need for Speed Pro Street". LaBounta joined EA as Senior Art Director for 'SSX3' and since then has also held the role of Chief Visual Officer for EA Sports.

LaBounta came to EA via PDI/DreamWorks, where he supervised visual effects for the Steven Spielberg film "Minority Report". Other recent film credits include "A.I.", "Mission Impossible 2" and "Forces of Nature". He originally joined DreamWorks in 1996 to supervise the climactic Red Sea sequence in "The Prince of Egypt".

Prior to joining DreamWorks he worked at Industrial Light & Magic (ILM) on many feature films including: "Twister", "Casper" and "Star Trek VII Generations." Prior to working at ILM, LaBounta did award-winning broadcast and commercial work in New York and Atlanta.

In 1996, LaBounta was nominated for an Academy Award for designing the look and techniques for the tornadoes and related effects on "Twister."
In the same year, he was awarded the BAFTA (British Academy Award) for his work on that film.