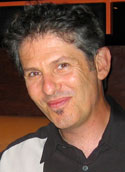 Alex Laurant
Art Director/Concept Designer
Studio LXL
Alex Laurant is an art director, visual designer and concept artist working in a variety of entertainment media; primarily feature films and games, also including theatrical design and print illustration.

Alex began his career as an editorial illustrator and graphic designer, later crossing from traditional to digital media spending more than four years with a small start-up studio creating interactive, educational CD-ROMs as part of the burgeoning "multimedia" wave of the 1990's.

For 8 years Alex was a Senior Visual Effects Art Director and Concept Artist at Industrial Light & Magic, working on numerous feature films and TV commercials including Saving Private Ryan, Star Wars (Special Editions), Star Wars Episode 2: Attack of the Clones, The Mummy, Minority Report, Peter Pan and The Day After Tomorrow.

Alex was co-nominated for Best Visual Effects Art Direction by the Visual Effects Society for his work on Minority Report (shared with Production Designer Alex McDowell).

In 2004 he relocated to London with his family to work as a Senior Art Director at Electronic Arts' UK Studio applying his art and film experience to the arena of games. For EA he worked on the game Harry Potter & the Goblet of Fire, while also working on several internal "new I.P." concepts and consulting with Crytek, an EA publishing partner studio in Frankfurt, on their highly acclaimed 2007 PC game, Crysis.

After returning to the U.S. in 2006 Alex rejoined Lucasfilm, this time as an Art Director for LucasArts, doing visual story development and art direction for a variety of new projects.
He has given numerous lectures and workshops on digital media and visual effects design and technique and has written or been featured in various industry articles and interviews.

He currently consults through StudioLXL in Northern California.