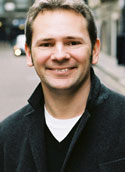 Michael Haigh
Development Director
SCE, London Studio
Mike Haigh is the Development Director for London Studio, part of the Sony Computer Entertainment Worldwide Studios group.  Since 2006, Mike has led over 300 staff, directed seven teams and overseen the franchises notably responsible for catapulting the 'social gaming' phenomenon into the mainstream.      

In 2003, Mike was pivotal to the development of a revolutionary new motion tracking camera which put the players themselves into the game.  Its first title, EyeToy: Play for the PlayStation 2, was released shortly after and went on to sell in excess of 5 million units.  Since then, the EyeToy series has expanded into a $200 million franchise with over 10 releases and 2 prestigious BAFTA game awards won to date.

Following the launch of EyeToy, Mike helped develop the concept of social gaming with his team in the form of SingStar which launched with a 2 microphone bundle in 2004.  The title was an instant success, breaking boundaries and attracting a new female audience to the gaming market.  SingStar has since released over 35 editions, sold over 15 million units globally and continues be one of the most profitable franchises in the industry.          

London Studio is Sony Computer Entertainment's largest studio in Europe and is responsible for exciting new interactive experiences such as PlayStation Home, EyePet, amongst others.  It is also renowned for its multi-million selling series such as The Getaway, This is Football and Passport To…

Previous to Sony Computer Entertainment, Mike set up the London branch of Psygnosis as Art Manager in 1991 with his programming partner. This was following the successful launch of Obitus under their Scenario Development label, which was also published by Psygnosis.  Mike worked on The Kristal game launched in 1989 for Fission.